7 Drawer Desk in Walnut & Parchment
7 Drawer Desk in Walnut & Parchment.
The 7 Drawer Desk in Walnut & Parchment was inspired by the interest in modern furniture from France in 1930's the 1950's. This period of design is frequently described as "40 French Furniture".  In the late 1990's when I was V.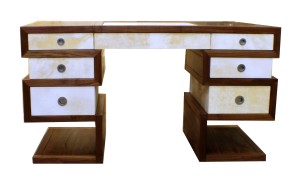 P. of Design and Product Development at John Widdicomb Co. in Grand Rapids, Michigan,  I produced a number of furniture collections based on this wonderful period of design.  Designers of the 40's period looked back on the opulent French Louis XVI Cabinet Makers and reduced the bronze ornamentation but kept the silhouette.  The French designer Jean-Michael Frank is the acknowledged master of the distillation of  18c French interior design.  Frank used parchment not only furniture but covered entire rooms with square panels wrapped with the skin.  The 7 Drawer Desk is constructed of solid American Walnut with Parchment covering veneered panels. The walnut top is fitted with a recessed parchment panel that has a glass panel over the top for protection.  The Greek key style pedestals are cantilevered over the open plinth. Polished Stainless Steel drawer pulls are graduated in size on the drawer fronts. The left pedestal features a unique drawer that functions as a small lock box and is illustrated below.
Please click on the images to enlarge.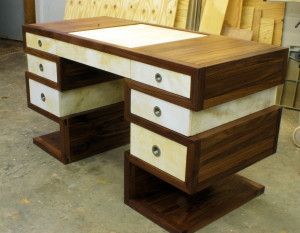 Tags: Artisan Furniture, Custom made, Desk, Fine Cabinetmaking, Northern Michigan, Solid American Walnut, Studio Furniture
Trackback from your site.