Cherry & Bridle Leather Bar Stools
Cherry & Bridle Leather Bar Stools
Cherry & Bridle Leather Bar Stools. The stools are handmade in solid American Cherry.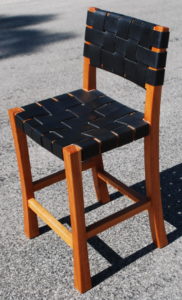 The seats and backrest are woven with the finest 3/16 thick Bridle Leather.
The stool is designed for 36″ counter height.  Custom sizes are available. Please feel free to call me at (231) 499 1044 or email me at info@chadwomackdesign to discuss your requirements.
Please click on the image to enlarge.                                                                                                                          
Tags: Artisan Furniture, Bar Stools, Custom made, Handmade, Northern Michigan, solid cherry, Studio Furniture
Trackback from your site.