Clear Desk in American Walnut
Clear Desk in Solid American Walnut
The Clear Desk is handmade in solid  American Walnut and is fitted with two drawers on each end. The drawers fronts feature beautiful inset circular Stainless Steel drawer pulls.  The back of the desk is finished so that can be used in the middle of the room or against the wall.  The finish is a hand rubbed oil and waxed to a satin luster.  The dimensions are Length 54″x Width x 24″ x Height 30″.
Click on image to enlarge.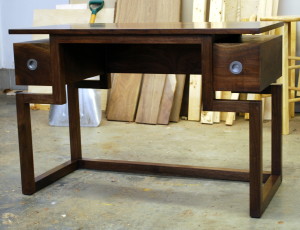 Tags: Artisan Furniture, Custom made, Desk, Fine Cabinetmaking, Solid American Walnut
Trackback from your site.