Custom Oak Entry Door for Historical House

Custom Oak  Entry Door for Historical House.
The Custom Oak entry door and flanking sash windows were designed and custom made for a 1905 House located in Traverse  City, Michigan.  The design of the door was based on the existing pair of doors at the front of the house. The doors are part of a new rear entry porch and mudroom designed by Ekocite Architecture of Royal  Oak, MI for this important historic house. The door is 90″ H x 36″ W x  2.25″ thick.
Please click on the images to enlarge.
The design of the beveled glass window is based on the existing front door.  The door case is mortise and tenon construction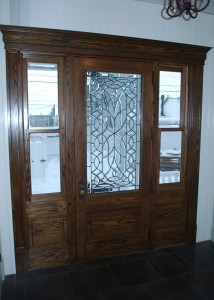 and double panel construction below the lock rail. The exterior panel is rift cut Red  Oak selected for its dimensional stability.  The interior panels are cut and carefully grain matched across the door system from a wide plank of figured Red Oak. The architectural and construction details of the door and sash windows are based on existing millwork in this historical home. The antique mortise door lock that matches the existing front door lock I found in Los Angles Architectural salvage shop.
.
Tags: Artisan Furniture, Custom door, Fine Cabinetmaking, Historical, Red Oak
Trackback from your site.