7 Drawer Desk in American Walnut & Parchment Panels

7 Drawer Desk in American  Walnut & Parchment Panels
Unique  7 Drawer Desk in American Walnut solids & Parchment Panels with a lyrical  Neo-Classic Greek key form. The top in solid Walnut is centered by a recessed Parchment panel that is covered by a glass plate.  Parchment or Goatskin is used to wrap the side panels and drawer fronts. The pedestal drawers fronts are fitted with beautiful Stainless Steel Drawer Pulls that are graduated in size.  The left pedestal features a safe drawer in middle position. Also one secret compartment is part of the construction. 54″x 24″x 30 H.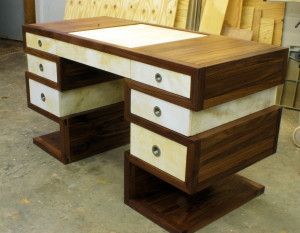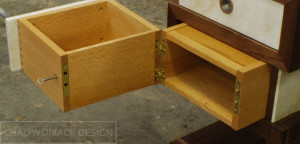 The idea for the drawer comes from the 18th C German cabinetmakers Abraham & David Roentgen pieces for Catherine the Great and the 18C English furniture designer Thomas Sheraton's drawing book. The transformation furniture made by the 18 C French cabinetmaker Jean-Francois Oben is also an important influence on my work.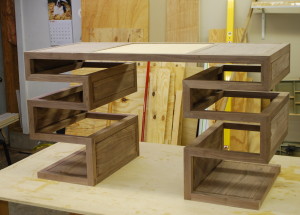 Tags: Artisan Furniture, Custom made, DeskWalnut, Fine Cabinetmaking, Handmade, Parchment, Solid American Walnut, Walnut
Trackback from your site.