Mud Room Cabinets for Historical House
Mud Room Cabinets for a Historical House
Mud room cabinets for a historic house in Traverse City, Michigan.  The pair of painted cabinets flank a new door and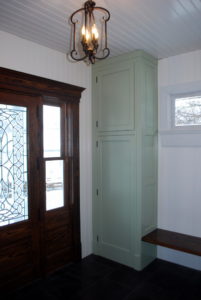 sidelights that I designed for the project.  The renovation included an entirely new back porch entrance and mud room.  Ekocite Architecture of Royal Oak MI developed the plan and exterior details based on the existing structure.  The door, sidelights, and the cabinets were developed from the beautiful existing moulding details in this important Victorian house. Built in 1900 for the founder of one Traverse Citys first banks, the house took seven (7) years to complete.
Please click on images to enlarge.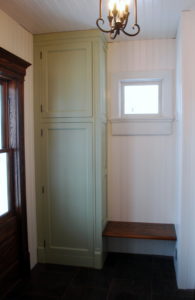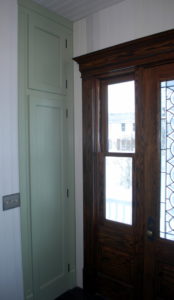 Details for the cabinets were developed from existing woodwork in the house.
Tags: Artisan Furniture, Custom made, Fine Cabinetmaking, Handmade, Historical, Painted Furniture
Trackback from your site.