Neo-Classic Entry Door
Neo-Classic Entry Door
This beautifully crafted Neo-Classic entry door is made in solid Quarter Sawn White Oak. The door case is 2  3/8″ thick and fitted with six (6) raised panel assemblies on the exterior and six (6) on the interior. The double panel construction is to allow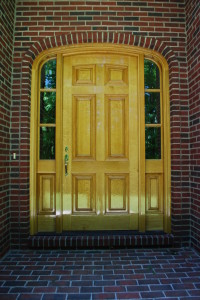 the interior and exterior of the door panel assemblies to expand and contract at different rates as the temperature varies in each environment.  Please click on the images to enlarge.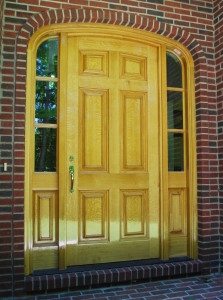 The door frame is traditional mortise and tenon construction and assembled using West System Epoxy. The center section of the raised panels were resawn then booked matched to create a dynamic pattern and are surrounded by two sets of classical moldings.  The door was finished using natural MinWax stain followed by a thinned down epoxy primer and top coated with Epifanes Varnish.
Tags: Artisan Furniture, Custom door, Custom made, Fine Cabinetmaking, Handmade, Northern Michigan, Red Oak, Studio Furniture
Trackback from your site.