Apothecary Cabinets in Red Oak fitted for Media use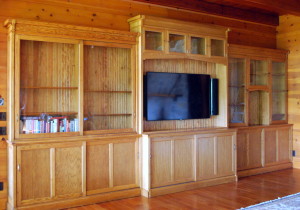 Custom Breakfront Cabinet in the center was handmade to match a pair of antique Apothecary cabinets from the early 19c. Originally the antique cabinets were used  Pharmacy in Traverse City, Michigan.  Length 24′ x 9′ in Height. The center cabinet handmade in Red Oak features four glass doors in the top section. The arched rail above the wide screen television was developed from similar but smaller rail in the far left antique cabinet. The lower section features sliding doors on custom hardware that match the vintage cases. The antique cabinets were retrofitted with Douglas Fir bead board backs along with the new cabinet. The pair of antique cabinets before restoration is shown below.
Please click on the images to enlarge.