Zig Zag Walnut Mirror

Zig Zag Walnut Mirror is crafted in solid American Walnut.
Each side of the Zig Zag Walnut Mirror is carefully cut and mitered from a single piece of wood. This allows the grain matches length of each frame menber. This technique creates the trompe-l'oiel effect in the frames wood grain. Custom sizes are available based on the index of the  of the design.  The size shown is 38″ x 38″  Hand rubbed oil finish. Price $2000.00 delivery aprox.  8 weeks from time of order.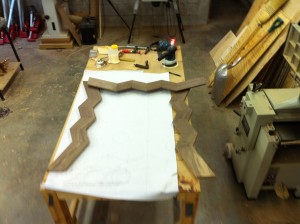 Tags: Artisan Furniture, Fine Cabinetmaking, Handmade
Trackback from your site.