Louis XVII Style Console Table
Louis XVII Style Console Table
The Louis XVII Style Console Table features an Indian Pietre Dura  "Inlayed" Marble top.  The top rests on a canted frieze in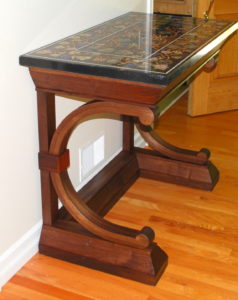 solid American Walnut fitted with a single hand dovetailed drawer.  The whole is raised on two bent laminated Walnut supports that are fastened at the waist with bands of Cocobolo Rosewood.   The table terminates in a U shaped canted plinth. The table is finished in a hand rubbed oil finish.
Please click on the images to enlarge.
The Louis XVII  attribution is my interest in the 20c  Cuban/French Architect Emilio Terry.  Terry's imagery concept of what Architecture, Design & Decoration in France would have become if the King Louis XVI would have passed the crown to his son the Dauphine.  Instead of the 19c French Empire style brought forward by the Emperor Napoleon's rule.
The marble top was purchased by my clients and the table was developed to fit there
requirements.
Tags: Artisan Furniture, Custom made, Fine Cabinetmaking, Handmade, Northern Michigan, Solid American Walnut, Studio Furniture
Trackback from your site.