The Missing Finn Juhl Coffee Table
The Missing Finn Juhl Coffee Table
A virtually unknown "unique" table designed by Danish Architect/ Furniture Designer Finn Juhl (1912-1989) is coming up for Auction after remaining in a private collection for 70 years. The table by Finn Juhl is being sold by the Danish Auction House Brunn Rasmussen on Sept 25, 2017.  The  "Dream Table" is the star of the Nordic Masters Sale #873 Lot 1006 with an estimate of $32,000 to $64,000.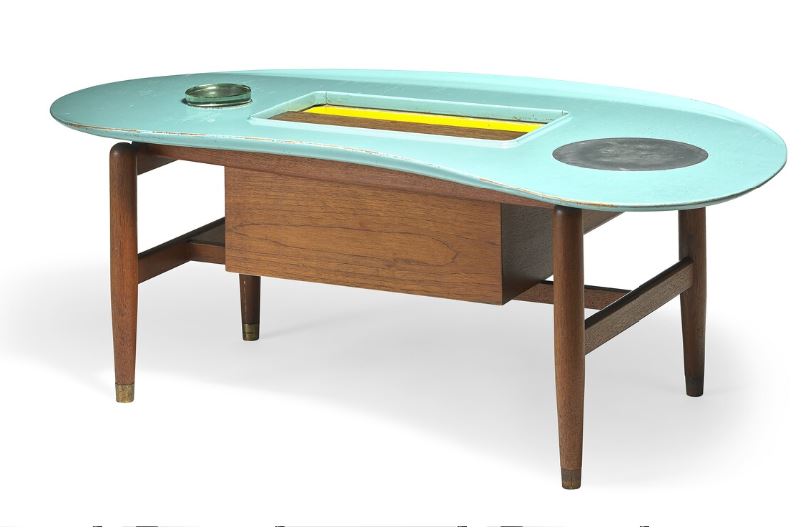 Please click on the images to enlarge.
The table designed in the early 1940's features an unusual painted palette shape top and is fitted with tambour compartment painted on the interior for holding tobacco. The top also features a circular zinc compartment with a fitted glass lid and a zinc plate inlaid on the opposite side of the top. The table base is in what we know as characteristic  Finn Juhl style.   The table base is described as being made in Cuban Mahogany but from the first photograph, it looks more like American Walnut?  The table was made by Niels Vodder for the Copenhagen Cabinetmakers Guild Exhibition. Design Museum, Denmark 1945.  The watercolor drawing is not dated, shows a series of holes in the top for holding pipes but was not included in the final design.
Finn Juhl is unique in this period of Danish Cabinetmaking for his departure from Kaare Klint School of Danish Modernism.  Klint who was head of the Royal Danish Academy School of Architecture and Furniture Design emphasized drawing from classical forms and was challenged by Finn Juhl's inspiration of  Modern Art.   Juhl's furniture designs with their sculpture forms are clearly inspired by modern Dada artists like Jean Arp. It is interesting if you look at the table as a whole object, it is a combination of tradition cabinetmaking and a piece of sculpture.  Juhl blends the two contrasting themes by deftly painting the underside of wood box construction in the same color as of the top. Who would see it! This is a work to be seen from all sides.
Literature: Grete Jalk; 40 Years of Danish Design, Vol. 2 p.276 Pub. 1987
Sommer Anne-Louise; Water Colors by Finn Juhl p.50 Pub. 2017
Great Video of the "Dream Table" produced by Brunn RasmussenAuction House
Tags: Chad Womack Design Blog, coffee table, Danish Modern, Finn Juhl, Historical, Mid Century Modern
Trackback from your site.